Written by Captain Doug Starliper
Saturday, 10 January 2009 02:52
Marathon Florida Keys Deep Sea Fishing Charters
Fishing Charters in The Marathon Florida Keys is as diverse as it's geography.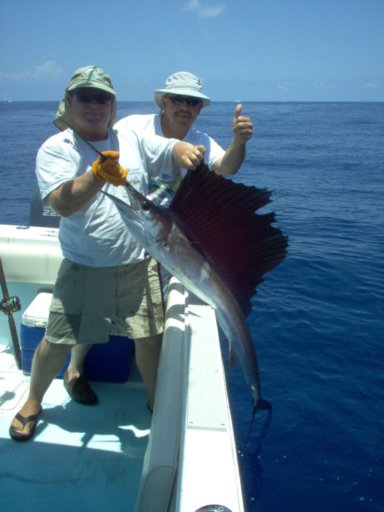 Offshore Deep Sea Fishing Ocean Side : We have options of trolling dead baits and lures, drifting live baits (kite fishing) and site fishing. Sailfish, Mahi Mahi, Tuna, Wahoo, Shark, Marlin, (swordfish-fishery of there own) and Triple Tail are your surface fishing fare. Deep ocean wrecks provide great light tackle action for Mutton and Mangrove snapper, Goliath, Gag, Red and Black Grouper, Cobia, Amberjack, King Mackerel and Shark Fishing.

Inshore Ocean Side : The reef drops to 100ft depth about 5 miles from land. We anchor and chum from 20ft -110ft depth and with conditions in our favor Yellowtail, Mutton, Mangrove Snapper and the Groupers are the targeted dinner fare with all the Jacks, Mackerel, Cobia, Sailfish and Sharks as the added bonus during their respective seasons.


Inshore Flats Fishing : Offers world class site fishing for Bonefish, Permit and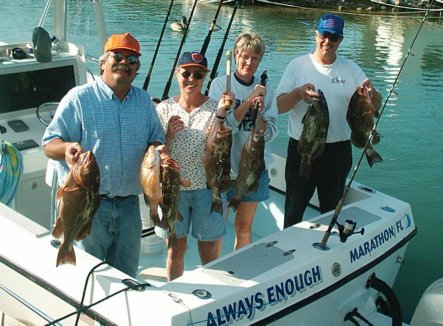 Tarpon. Fly rod and spin Tackle of all sizes are your weapons here, but these fish see you as soon as you see them. Fly fishing can take a life time or more to perfect .

Inshore and Offshore Gulf: The Bay Side Florida Keys is a very different geographical area. Offshore (15miles plus) the bottom is hard or mud|sand. Gulf Wrecks provide the habitat for Cobia, Large King Mackerel, Goliath grouper, Sharks, assorted Snapper and assorted Grouper. Jacks provide serious light tackle action with the cooler water temps of the winter months being the best time.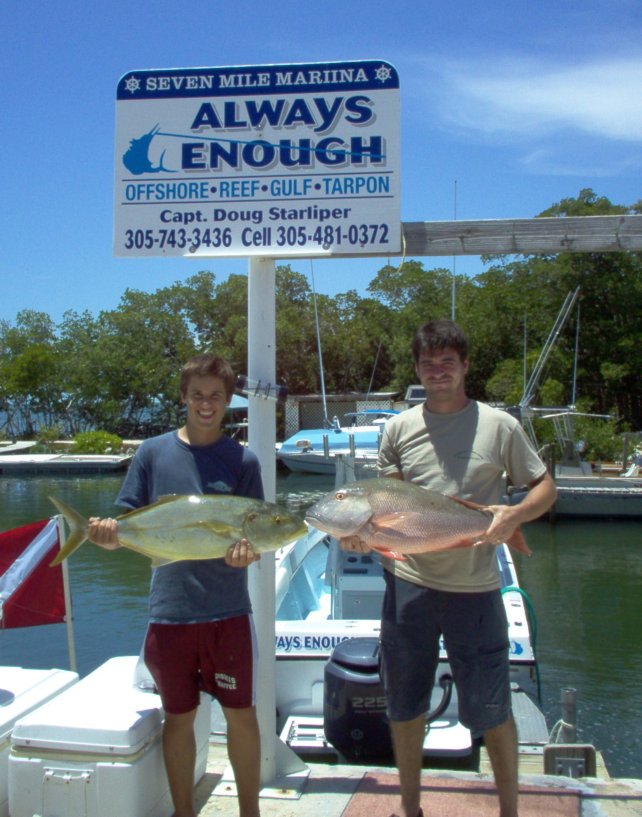 Inshore Bay and Backcountry: consists of 6ft-12ft of nice grass estuary and many shallow banks and flats. This is where it all starts so that if you were a juvenile fish of any reef / bottom dwelling species you would spend the early part of your life hiding and feeding in the rich deep grass of the Florida Bay. In the deeper grass and on the shallows Snapper, Grouper and Sharks of all kinds are plentiful throughout the year. Migratory species include Cobia, Mackerel and Sharks roaming the entire area with Tarpon, Permit and Bonefish up on the Banks / Flats.

Favorable conditions and these fish visiting our area each year truly makes this area a year round fishing paradise.

With all these options available, the question is not what do I want to fish for today but how do I catch all these fish. The answer is it can take a lifetime unless you just move here and fish full time like we do. From a visitors view on a short trip, our Florida Keys Fishing Charter industry can provide the service you need to save time and money on your quest for knowledge about this area and these fish.

Captain Doug Starliper
Marathon Florida Duck Key
Duck Key Fishing