Fishing Articles
Written by Rod Houck
Wednesday, 19 September 2007 15:40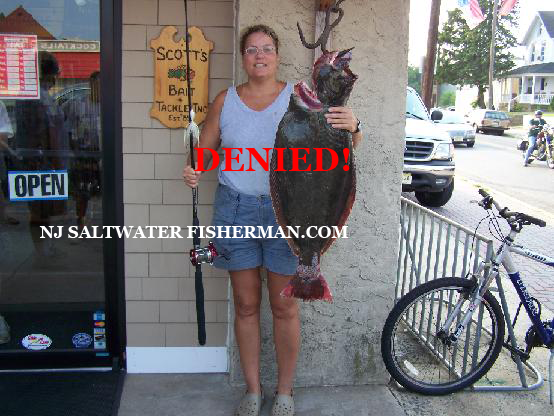 Fluke fisherwoman denied world record
by Judy Peet
Wednesday September 19, 2007, 7:16 PM

Monica Oswald, the Neptune nurse who was savaged in online discussion groups after she caught the largest summer flounder ever brought in with a rod and reel, has been denied a place in the record books.


The International Game Fish Association said today that Oswald broke IGFA rules in August when she briefly rested her pole on the rail of her boat while wrestling with a 24.3-pound fluke off the coast of Monmouth County.
Read more...
Written by Rod Houck

Monday, 20 August 2007 10:42
Aug. 20, 2007

Working to heighten awareness of New Jersey's marine fisheries regulations and the consequences of violating them, state conservation officers yesterday inspected scores of recreational fishing boats and popular fishing spots along the Sandy Hook and Raritan bays and the Arthur Kill. Please click Read More for full Article.




Read more...

Written by Paul Danielczyk

Wednesday, 08 August 2007 05:26
Hi All,

The next stop in my quest is Brick, at the Mantoloking Bridge fishing pier.

If you haven't been by here in a while it is worth a trip especially for crabbing right now. It is easy to get to if you are traveling on Rt 35 go south past Bay Head and there is a traffic light for Herbert St, 528 toward Lakewood. turn right and go over the bridge. There is a small parking lot just to the west of the bridge and if that is full go a little further and pull into the Mantoloking Cove Marina and head east where you will find pleanty of parking..... Click Read More For Full Article.
Read more...

Written by Paul Danielczyk

Thursday, 02 August 2007 11:39

Hi all,

Well this is just the first in what should take me a while to complete. I will be posting pictures and locations along the coast and bays for free fishing locations or almost free (parking meters).

I started out today at the Manasquan Inlet on the Point Pleasant Beach side. The fishing area is large with plenty of parking. The boat traffic is usually heavy and today was no exception, especially with the dredge working the inlet.

There are lavatory facilities available and plenty of bait shops available. Plus many eateries scattered about if you forgot your lunch.

Parking is by a vending machine where you punch in your parking space number and how long you intend to park and it lets you know how much to pay. This can be either by cash or credit card. Br aware if you pay by cash there is no change return.

All in all it is clean and is a great area for families to fish and have fun.

Google Map type in Inlet Dr. and click Hybrid to see inlet:
http://www.google.com/maps?q=Point+Pleasant+Beach,+NJ,+USA&sa=X&oi=map&ct=title

See full review and more


Happy Catching!

Paul

Written by Capt. Ed Marut

Saturday, 14 April 2007 05:43

What Exit? Folks living in New Jersey (NJ) have heard that one in jokes for a long time. But, what those folks don?t know is that if you fish in NJ, there is great fishing at every turn.

 

NJ is one of the smallest and most densely populated states in the nation. From Raritan Bay and Sandy Hook to Cape May and Delaware Bay, NJ marine resources provide something for anyone within its 83 miles of bay shores, 127 miles of Atlantic coastline and numerous streams, lakes and rivers................

Read more...
<< Start < Prev 1 2 3 4 5 6 7 8

9

10 Next > End >>


Page 9 of 10