Fishing News
Written by Bob Maehrlein
Saturday, 07 April 2012 20:27
On March 30, 2012, the winning numbers were drawn for an amazing, record setting Mega Millions lottery jackpot of over $656,000,000.  And, strange as it may seem, not one NJSWF member held the winning ticket.  But, don't feel bad for them.  Apparently they were all saving up their luck for the next night at the 5th Annual New Jersey Saltwater Fisherman Banquet, because what happened there was just as amazing and record setting in its own right!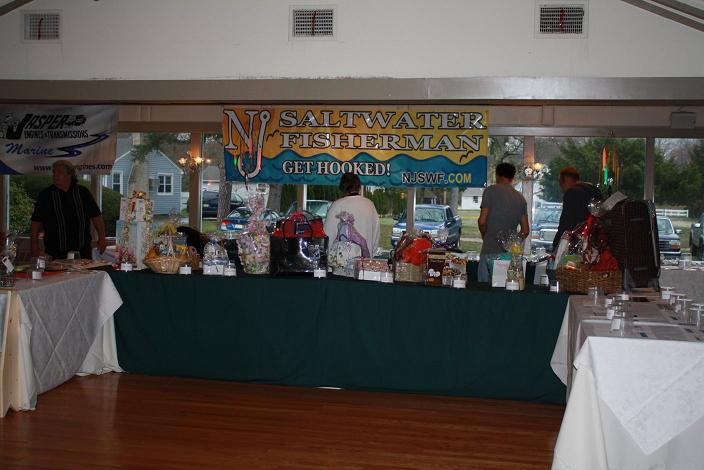 Over 150 members and their guests showed up at the Captain's Inn in Forked River, NJ for a night of fun, food, freebies, fundraising and fish stories.  And everyone got what they came for.  The goal was not only to have a great time, but also to surpass last year's contribution of $1,250 made to the Recreational Fishing Alliance (RFA), an organization dedicated to protecting the rights of sport fishermen.

After checking in and receiving their tickets for the silent auction, the attendees were treated to a tasty assortment of cheeses, vegetables, salads and various hors d'oeuvres.  Most of the appetizers were consumed while perusing the eight banquet tables rich with prizes donated by our very generous sponsors.

Over 120 separate prizes made up the silent auction this year.¬† Rods, reels, plugs, spoons, flies, jigs, sinkers, rod racks, terminal tackle, gift certificates for merchandise, full boat fishing charters and open boat trips, tackle boxes, gaffs, and much, much more made up a vast array of treasures waiting to go home with their lucky winners.¬† 'ÄúWow!¬† This just gets bigger and better, and our sponsors get more and more generous every year!'ÄĚ exclaimed NJSWF founder, Rod Houck.

Before the main course, the guests were officially welcomed and a moment of silence was observed in memory of long time NJ Saltwater Fisherman member Dennis Kesolitz (kezsr), who we sadly lost last year to cancer.

Dinner was delicious and included filet mignon, stuffed chicken breast, Chilean sea bass, shrimp & scallop scampi, vegetables, pasta and more.  It was followed by a heavenly slice of chocolate confusion cake.

The seemingly impossible task of giving away all of the prizes before the night ended fell to Captain Joe Gogan and yours truly.  With the help of my daughter Katie pulling the tickets, the giveaways were underway.  For the next two hours, a steady stream of lucky winners made their way up to claim their spoils.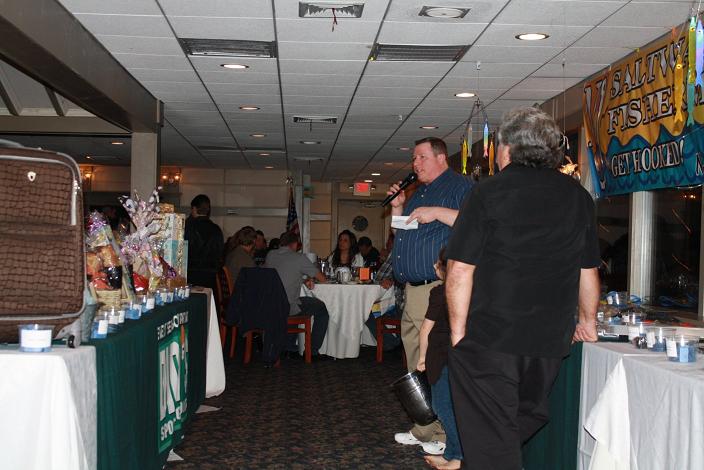 The last drawings of the night were the grand prizes.  These last three prizes were collectively worth over $1,200.  The first winner was Bob McNamee who, when his number was called for a prize worth $450, promptly stood up and donated it back to the RFA!  A truly magnanimous gesture!

The next winner was Skip Rosati who took the 1st runner up prize of assorted fishing tackle.  Finally, in a wonderful display of karma, the grand prize winner of over $600 worth of assorted fishing tackle was Bob McNamee!  This time he kept his prize, and deservedly so.

Once again, a record was set, and NJSWF proudly presented a check for $1,950 to Captain Adam Nowalsky, Chairman of the NJ Chapter of the RFA, beating last year's donation by $700!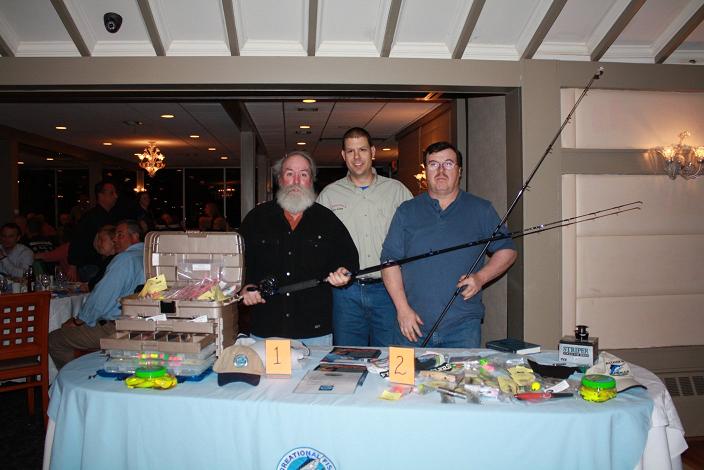 In the end Captain Adam summed it up best.¬† 'ÄúI don't really think 'ÄėThank you'Äô says enough.¬† The NJSWF community has been tremendous in supporting those that support the state's fishermen since the site's inception.¬† Every year you all have outdone yourselves, and this year was no exception.¬† I had a wonderful time and thank everyone involved from Rod on down.¬† You all are what fishing is about, thank you!¬† And a special thank you to Bob McNamee for his incredible gesture of generosity.¬† (It was) simply astounding.'ÄĚ

Please support our sponsors and contributors who make magical nights like this one possible.
A Thank You To Our Members and Sponsors From The RFA

See Full Banquet Photo Gallery
Written by Rod Houck

Thursday, 01 March 2012 21:01

2012 NJ Summer Flounder / Fluke Regulations

The New Regulations are as Follows..


17.5 inch @ 5 fish... May 5 - September 28

See what others have to say about this here..

NJ Summer Flounder Regulations


Written by Rod Houck

Saturday, 07 January 2012 08:42

The State Marine Fisheries Council met Thursday 1/5 to vote on a plan to reduce the annual harvest of Blackfish (Tautog) after Federal Regulators ordered New Jersey officials for a reduction in the recreational harvest.

The Proposed minimum size limit will rise to 15 inches all year long, up from the minimum size limit of 14 inches. Anglers will also be taking fewer fish home.

( The Proposed ) NJ Blackfish / Tog Regulations are as Follows.

Jan. 1 - Feb. 28 - 15 inches - 4 fish

March - CLOSED

April - 15 inches - 4 fish

May 1 - July 26 CLOSED

July 27 - Aug. 30 - 15 inches - 1 fish

Sept. 1 - Oct. 17 - CLOSED

Oct. 18 - Nov. 15 - 15 inches 1 fish

Nov. 16 - Dec. 31 - 15 inches 4 fish

Written by Rod Houck

Monday, 12 December 2011 20:04

The Bandit which is docked in Belmar NJ, will now be located in Indian River Inlet Delaware Starting Dec 16th. Delaware is the Bandit's winter time home where it's Tog / Black Fishing from now till April.

Sailing from The South Shore Marina
Road 50 A, Bethany Beach, Delaware 19930

The Del-Mar area is home to some of the best tog fishing on the East Coast. The water stays a few degrees warmer and the fish continue to bite all winter. Most of the wrecks get little to no pressure from Jan - Apr.

It's not uncommon to not see another boat out the whole day. Tog in the 10 -16 lb range were common for them every season as well as many limit catches which is 10 fish in Delaware........

Approximate drive time for most in NJ is 3 hrs

Hotel Accommodations Available at
The Rehoboth Inn
www.rehobothinn.com
Call Capt. Scotty for Discounted Rate Information
Capt. Scotty 732-692-9521

Reservations required by 9am the night before the trip... NO WALK ON'S ACCEPTED.


See More Info At The Fishbandit Site Delaware Blackfishing Trips

Also Find Exclusive Bandit Indian River DE Black Fishing Reports Here

Written by Bob Maehrlien

Saturday, 12 November 2011 18:57

 

You know how real life tends to get in the way of fishing sometimes? ¬†It was like that for me for most of this year. ¬†I had been trying to find a date to fish with Captain Fran Verdi aboard 'ÄúThe Drop Off'ÄĚ for most of this year. ¬†Capt. Fran had graciously donated a couple of open boat trips to give away at the 4th Annual NJ Saltwater Fisherman banquet back in April. ¬†Capt. Joe of the Irish Ayes had won one of those trips and kindly gave it me. ¬†Now, on this chilly, damp morning the day had finally arrived. ¬†Accompanying us was my good friend Jerry Talerico from Brigantine, NJ and Troy from Allentown, Pennsylvania.

Heading Out


A blanket of thick fog enveloped the bay as Capt. Fran piloted his 25' Hydra Sport center console towards Little Egg Inlet.  It was a slow ride as he made his way through the channel, carefully scanning his surroundings while keeping one eye on the radar.  The cold, wet air made me glad I showed up dressed for the occasion.

Our plans, as the captain told us, were to get outside and see if we could troll us some striped bass which had shown up in decent numbers over the past few days.  We also had a cooler full of fresh clams aboard that could be put into action if they didn't respond to the troll.  My tackle bag, as usual, was packed full of metal jigs, plastics and plugs which I hoped to have a chance to use if the opportunity presented itself.

The fog had all but burned off by the time we reached the inlet, and the captain opened the throttle to give the big Yamaha engine more fuel as we headed north along the coast.

First Bite


Arriving at our first destination, Capt. Fran deployed the trolling gear. ¬†With a Mann's Stretch 25 on both rods, it wasn't long before we had our first bite. ¬†I quickly grabbed the rod and reeled in our first fish of the day. ¬†It was a fat striper that was just shy of 28 inches. ¬†Not quite a keeper. ¬†Back in she went and so did the Stretches. ¬†We only trolled a few more minutes before the captain said, 'ÄúLet'Äôs bring them in. ¬†We're moving.'ÄĚ ¬†As he reeled in the plug to make the move another striper hit it and we had our second fish in the boat; another short.

The old adage goes, 'ÄúYou never leave fish to find fish.'ÄĚ ¬†But Capt. Fran wasn't afraid to go against the grain, and we motored further north until we arrived at our second destination. ¬†It turned out to be the right decision, as we wouldn't move more than a half mile from that spot for the rest of the day.

Mayhem and the Mother Lode

I stood on the deck and waited anxiously for the boat to slow enough for me to make my first cast into the chaos that lay before us. ¬†Stripers were rolling, swirling and jumping clear out of the water as far as the eye could see! ¬†As Capt. Fran throttled down I sent my small Krocodile spoon flying through the air. ¬†When it hit the water, I made three turns of the handle and it was 'ÄúFish on!'ÄĚ ¬†The fish made a few spirited runs before she was eased into the net and we had our first keeper of the day - a healthy, 36 inch fish. ¬†

It was merely moments until both Jerry and Troy were hooked up as well. ¬†Jerry was tight on a green tailed Ava jig and Troy on a Storm shad. ¬†It was absolute mayhem! ¬†Capt. Fran had put us on the mother lode of stripers! ¬†'ÄúI have never seen anything like this!'ÄĚ he exclaimed more than once.


The Kitchen Sink
We had our four man limit in the box by 9:30 am.  After that we played catch and release for the rest of the trip.   They were all fat, healthy fish, and they were gorging themselves on sand eels.  The bulk of the fish weighed in the high teens to 20 plus pounds.  Troy went up to the bow and continued to catch fish on the Storm shad, while Jerry and I had other ideas.

Everyone that has ever wet a line can relate to those tough fishing days when we wind up throwing everything we have in our tackle boxes trying to get just one bite. ¬†These are the 'Äúkitchen sink'ÄĚ days, when nothing seems to work. ¬†Today was the exact opposite. ¬†We changed baits with regularity, catching fish on everything. ¬†Some baits worked better than others, but all worked to some degree.

 

 

Big, wooden Mike's plugs, poppers, Ava jigs, bucktails, Krocodiles, Sluggos, Yo Zuri Crystal Minnows, Rapala Sub Walks, Storm shads, and RonZ baits as well as others all caught fish. ¬†For me, the 8'ÄĚ RonZ seemed to be the most effective, as it matched the sand eels perfectly. ¬†Jerry continued to swap out lures after every couple of fish. ¬†Capt. Fran had a sore arm, but eventually even he couldn't resist getting in on the action and catching a couple.

In between casts we watched in awe as these stripers did their thing chasing sand eels to the surface and devouring them.  The final tally on the day was eight fish kept (for our four man limit) with countless more released to fight another day.  We estimated it was maybe sixty or more, but truth be told, the action was so intense nobody ever really bothered to keep count.

A First Class Operation

As with all good things, this amazing trip had to finally come to an end.  After arriving back at the dock, Capt. Fran expertly filleted our catch and divvied it up amongst us.  Capt. Fran runs a first class operation and is willing to do anything necessary to put his clients on the fish.  If you are ever looking to do a private charter or an open boat trip in the area of Long Beach Island, I highly recommend you give a call to Capt. Fran Verdi and "Fish the Drop Off".

For More Images See The Report Here...  Saltwater Fishing Reports
<< Start < Prev 1 2 3 4 5

6

7 8 9 10 Next > End >>


Page 6 of 18